Miss America 2013: Who won Miss America 2013?

Ready to welcome Miss America 2013 winner? If yes, wait for a while as the pageant will be held only by January 2013. Meanwhile read this article to know more about Miss America 2013 regarding its date and location, contestants, who will win Miss America 2013?, Miss America official website and contact information and many more!


Miss America 2013, the 86th Miss America pageant will be held on 12 January 2013 at the Theatre for the Performing Arts, Nevada, USA. You might be surprised to hear that about 53 contestants will be competing for winning the prestigious title. For the first time, Miss America competition was held in the year 1921. Miss America 2013 presenters include Bachelor's Chris Harrison and Dancing's Brooke Burke-Charvet.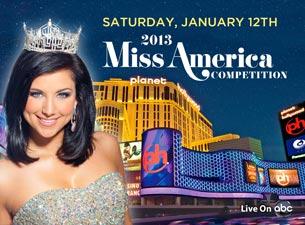 Miss America 2013 winner will be crowned by Laura Kaeppeler, winner of Miss America 2012. You might be eagerly waiting to watch the Miss America 2013 competition. This will be telecast live by ABC(American Broadcasting Company) on 12 January 2013 at 9 PM ET. Below is mentioned a list of Miss America 2013 contestants.

Miss America 2013 website: www.missamerica.org
Contact Miss America:

The Miss America Organization
222 New Road,
Suite 700, Linwood,
NJ 08221
Email: info@MissAmerica.org
Tel: 609- 653-8700
Fax: 609-653-8740
List of Miss America 2013 contestants
Anna Laura Bryan: Age – 23: Hometown: Alabama
Debbe Jo Ebben: Age – 23, Hometown: Alaska
Piper Stoeckel: Age- 22, Hometown: Arizona
Sloane Roberts: Age- 19, Hometown: Arkansas
Leah Cecil: Age- 22, Hometown: California
Hannah Porter: Age- 24, Hometown: Colorado
Emily Audibert: Age- 21 , Hometown: Connecticut
Alyssa Murray: Age- 20, Hometown: Delaware
Allyn Rose: Age- 24, Hometown: Maryland
Laura McKeeman: Age- 23 , Hometown: Florida
Leighton Jordan: Age- 19 , Hometown: Georgia
Skyler Kamaka: Age- 22, Hometown: Hawaii
Whitney Wood: Age- 19 , Hometown: Idaho
Megan Ervin: Age- 23, Hometown: Illinois
MerrieBeth Cox: Age- 22 , Hometown: Illinois
Mariah Cary: Age- 20, Hometown: Iowa
Sloane Lewis: Age- 21 , Hometown: Kansas
Jessica Casebolt: Age- 19 , Hometown: Kentucky
Lauren Vizza: Age- 22 , Hometown: Louisiana
Molly Bouchard: Age- 21, Hometown: Maine
Joanna Guy: Age- 21 , Hometown: Maryland
Taylor Kinzler: Age- 20, Hometown: Massachusetts
Angela Venditti: Age- 24 , Hometown: Michigan
Siri Freeh: Age- 22, Hometown: Minnesota
Marie Wicks: Age- 23 , Hometown: Mississippi
Tippe Emmott: Age- 21 , Hometown: Missouri
Alexis Wineman: Age- 18 , Hometown: Montana
Mariah Cook: Age- 23 , Hometown: Nebraska
Randi Sundquist: Age- 22 , Hometown: Nevada
Megan Lyman: Age- 21 , Hometown: New Hampshire
Lindsey Petrosh: Age- 23, Hometown: New Jersey
Candice Bennatt: Age- 23 , Hometown: New Mexico
Mallory Hytes Hagan: Age- 23, Hometown: New York
Arlie Honeycutt: Age- 20 , Hometown: North Carolina
Rosie Sauvageau: Age- 24 , Hometown: North Dakota
Elissa McCracken: Age- 21, Hometown: Ohio
Alicia Clifton: Age- 21, Hometown: Oklahoma
Nichole Mead: Age- 24, Hometown: Oregon
Jordyn Colao: Age- 22 , Hometown: Pennsylvania
Kiaraliz Medina: Age- 19, Hometown: Puerto Rico
Kelsey Fournier: Age- 23 , Hometown: Rhode Island
Ali Rogers: Age- 20, Hometown: South Carolina
Calista Kirby: Age- 24 , Hometown: South Dakota
Chandler Lawson: Age- 22 , Hometown: Tennessee
DaNae Couch: Age- 24 , Hometown: Texas
Kara Arnold: Age- 22, Hometown: Utah
Chelsea Ingram: Age- 23 , Hometown: Vermont
Aniska. T. Tonge: Age- 21 , Hometown: Virgin Islands
Rosemary Willis: Age- 21 , Hometown: Virginia
Mandy Schendel: Age- 22 , Hometown: Washington
Kaitlin Gates: Age- 20, Hometown: West Virginia
Kate Gorman: Age- 23 , Hometown: Wisconsin
Lexie Madden: Age- 21 , Hometown: Wyoming



Who won Miss America 2013 crown? We have to wait till 12 January 2013 to know the winner of Miss America 2013. We wish all success for the Miss America 2013 participants for winning the prestigious crown.

Image courtesy: vegasplaydate.com