Maryland Fashion Week 2011 Designers and Schedule Details

Maryland Fashion Week 2011 is going to be celebrated soon in August 2011. Get to know about the date and place or venue of Maryland Fashion Week 2011, designers, detailed schedules, where to get 2011 Maryland Fashion Week tickets and more.


About Maryland Fashion Week

Maryland Fashion Week is well known in the fashion world for its one very unique feature; it provides a stage for the kids and full figure models on the same runway along with the petite models. In Maryland Fashion Week, you will experience some of the most creative, elegant, and amazing models, designers and merchants, not only from Maryland but also the neighbouring areas and abroad, such as Miami, Paris, New York City, Delaware, Virginia, Washington DC and lot more. With outstanding productions coupled with great reviews, Maryland Fashion Week provides the local models with a chance to have potential projects and offers. Maryland Fashion Week also indulges in a number of social service activities that has won it a humanitarian name apart from its identity in the fashion world. Maryland Fashion Week 2011 tickets are now available.


Maryland Fashion Week 2011 Venue: Inn & Conference Centre
Maryland Fashion Week 2011 Dates: 8th August 2011 - 14th August 2011
Maryland Fashion Week 2011 Sponsors: Council, Comfort Inn, iMEG, elan
Maryland Fashion Week 2011 Detailed Schedule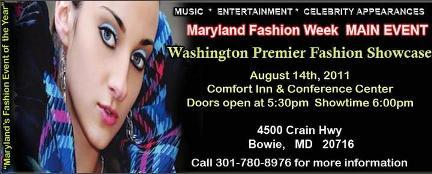 MD Fashion Week, August 7, 2011

- The main attraction is the 2011 Maryland Fashion Week TV Live Broadcast from 18:30 hours to 20:00 hours. By turning in, you can win free prizes and tickets here. In the Internet TV Broadcast, meet the 2011 Maryland Fashion Week designers, models, sponsors and more. The Fashion is Fabulous shall also be launched.



MD Fashion Week, August 12, 2011

- The main attraction is the Industry Networking Social which will begin at 21:00 hours and will continue until it ends. The venue is

Peachez Cafe & Lounge
5010 Brown Statioin Road
Upper Marlboro, MD 20772
301-780-3467



MD Fashion Week, August 13, 2011

- The main attraction is and event supporting breast cancer, Push and Pull for Pink. The venue is Gold's Gym in Crofton, Maryland, and the time of this event is 9:00 am to 3:00 pm.



MD Fashion Week, August 13, 2011

- The 2011 Maryland Fashion Week main event will take place on this day. The details of this event are given below:

The Washington Premier Fashion Showcase
Comfort Inn and Conference Center
4500 Crain Highway (Rt 301)
Bowie, Maryland 20716

The doors will open at 5:30 pm and the 2011 Maryland Fashion Week Showtime will be from 6:00 pm to 8:00 pm.


2011 Maryland Fashion Week Designers
Joy Houston: A native of Washington DC and originally from Thailand, Joy Houston stands for your dream bridal dress. She has been delivering, with all her expertise and creativity, over ten thousand bridal dresses for a period of more than twenty four years.


Kachi Designs: Chigozie Anaele's Kachi Designs conjures up the animated spirit deep in the core of every woman. The eclectic apparel and accessories of Kachi Designs, both contemporary and classic, bear the fresh smell of Nigeria.


Studio Dmaxsi: One of the fastest emerging fashion designing companies in the Washington DC, Studio Dmaxsi specializes in silk-based fabrics and African woodin. The designer Afua Sam originally hails from Ghana, and her fascination for African fibres offers the modern woman an ethnic look.


George Thompson: George Thompson, a bold name in the world of men's fashion, began designing as early as the 1960s in Trinidad, later migrating to Maryland in 1987. He is a specialist in men's suits, pants, vests, sports jackets, shirts, ties and casual suits.


J.S. Furs of Chevy Chase: As evident from the name itself, J. S. Furs specializes in stylish, quality, affordable furs. A relatively new enterprise, it strives to become a notable community-oriented furrier.


Evgenia Luzhina-Salazar: A costume designer for more than three decades, Evgenia Luzhina-Salazar is a familiar name both in Russia and USA. She has created the dresses for more than fifty plays and was also honoured with the Helen Hayes Awards in 2010.


Dee Couture: Deborah Cooper, professionally known in the fashion industry by her nickname Mrs. Dee, boasts a family tradition in fashion designing, while her concern, Dee's Couture, has been a familiar name in various fashion shows including the Maryland Fashion Week, the Virginia Beach Fashion Week, the New York Fashion Week, the NC Fashion Week, the Hype Hair Fashion Show, the Black Beauty Expo and so on.


Baby Blues Boutique: Baby Blues Boutique, an enterprise by the kid's fashion designer Kathy Phipps, is a high end boutique for newborns and kids, and is expected to be a mass attraction in the Maryland Fashion Week 2011.


Ashley Stewart: Ashley Stewart has been a major trendsetter in the plus size fashion industry since the early 1990s. The Ashley Stewart brand is almost synonymous for the eclectic, and the fashion forward.
Maryland Fashion Week 2011 contact details

Address: PO Box 307, Upper Marlboro, MD 20773, USA
Phone: 301-780-8976
Fax: 301-780-5310