Wiki biography and career of Ivian Sarcos of Venezuela, Miss World 2011

Miss Venezuela 2010 Ivian Sarcos recently won the crown of Miss World 2011, and now all eyes would be on her for sure. Check out this Ivian Sarcos wiki biography to learn more about Ivan Sarcos, her career profile, contact information, personal details and more.


Ivian Sarcos, the former Miss Venezuela 2010, is now the focal attraction point as the glamour world as she bagged the Miss World 2011 Winner title last evening amidst the grand and gala fanfare at the Earls Court Two in London, UK. Ivian Sarcos was entitled the winner of the 61st Miss World contest. The Miss Philippines 2010 Gwendoline Ruais came up as the Miss World 2011 1st runner up while Amanda Perez, Miss Puerto Rico 2010, bagged the crown of the Miss World 2011 2nd runner up. Fifteen models representing fifteen countries became the semifinalists of the Miss World 2011 contest, namely Indonesia, Korea, Italy, Sweden, Zimbabwe, Kazakhstan, Ukraine, Venezuela, Philippines, US VI, Spain, Puerto Rico, South Africa, Scotland and England. Among these countries, Indonesia, Italy, Sweden, Zimbabwe, Kazakhstan, Ukraine, US VI and Spain were eliminated in the final round and the rest seven finalists contested for the top three places.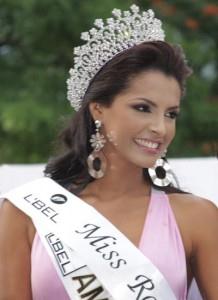 Born on July 26, 1989, in Guanare, Portuguesa, Venezuela, the childhood of Ivian Sarcos was not at all a fairy tale. The parents of Ivian Sarcos passed away when she was only a little girl of eight years. Since then she was brought up and fostered in a nunnery or convent by Christian nuns in Cojedes. Ivian at her childhood wanted to be a nun as well and she was studying for it. Believe me, this glamour queen really knows a lot about the scriptures. Nevertheless, as she grew up, she gave up the idea as she realized that she has a nice chance with her figure and intelligence in the world of glamour. Thus the modelling career of Ivian Sarcos replaced her early intentions to become a nun.


Personal Bio Data and Contact Information of Ivian Sarcos

Full name of Ivian Sarcos - Ivian Lunasol Sarcos Colmenares
Date of birth of Ivian Sarcos - July 26, 1989
Present age of Ivian Sarcos, Miss World 2011 - 22
Home Address of Ivian Sarcos - Guanare, Portuguesa, Venezuela
Boyfriend of Ivian Sarcos - Well, we are looking for this information as well. If you know, you can help expanding this article by posting a comment below.


Ivian Sarcos Vital Statistics and Figure Details

Body height of Ivian Sarcos - 1.80 m (5 ft 11 in)
Hair colour of Ivian Sarcos- black
Eye colour of Ivian Sarcos - black
Vital Stats of Ivian Sarcos - 36-24-35
Ivian Sarcos bra cup size - C


Modelling Career of Ivian Sarcos - Titles Won

Ivian Sarcos as a model first came into the limelights as she became the Miss Amazonas in 2010. In the same year she was crowned the Miss World Venezuela 2010. And now that she is the Miss World 2011, one does not need to mentioned that she is now the most beautiful teenage girl on the earth at this moment. She has won the highest title of any beauty contest and her mission is accomplished. It will now be interesting to find out what might the future career plans of Ivian Sarcos. Will she step into the film industry? We got to wait to know!