The Matriarch of NYC Nights: Wiki biography of Zelda Kaplan

The New York City socialite Zelda Kaplan's life and profile had everything in it from ballroom dancing to professional golf. Have a peep into the life story of Zelda Kaplan in this wiki biography!


Zelda Kaplan is perhaps a name that needs no introduction in New York City, and perhaps the most admired name for the NYC socialites. The famous red and black hat and the reddish brown glasses was something that you could have never ever missed to notice in any fashion shows and fashion weeks. If you were a regular figure in art openings, fashion shows, beauty pageants, social get together and parties, there are almost cent percent chances that you have seen Zelda Kaplan, the most veteran and the most loved night-bird of the New York City.


Life profile and biography of Zelda Kaplan

Born in 1916 in Trenton, New Jersey, USA, the life of Zelda Kaplan provided her with almost everything it could do, such a widely traveled and versatile personality she was. The biography of Zelda Kaplan includes teaching numerous people how to dance at ballrooms, to playing professional golf back in her twenties and thirties. The date of birth of Zelda Kaplan is June 20th, 1916.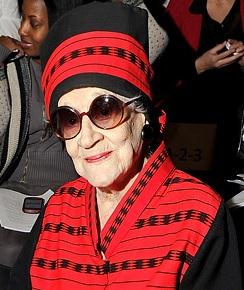 When I was in my teen age I attended my first fashion show. I don't exactly remember what was the name of the event or which models were there on the runway, but my eyes failed to notice a good old woman in the front row with the archetypal sunglasses and the mythical red and black costume. One of my friends knew her, and she told me, look, that's Zelda! Truly, such was her reputation in the NYC night life. In fact Zelda Kaplan was respected not only in New York City but throughout the world for her stunning sense of fashion, and an youthful spirit which her friend and co-worker Joanna Mastroianni has described as joie d'viv after her death. Zelda Kaplan, in her fashion consciousness, jovial and eccentric spirit, and dedication to her philanthropy, was a person tough to keep up with even for teenagers.

The HBO channel even prepared a documentary, based on the life story of Zelda Kaplan, called Her Name is Zelda. The HBO documentary on Zelda Kaplan depicted her transformation from a petite and average housewife to a frequent figure in NYC night clubs and fashion events, thus a most known socialite of the United States.


Social works in career of Zelda Kaplan, the philanthropist

Apart from being a night bird, the life of Zelda Kaplan was also marked by her humanitarian and philanthropic efforts. She was one of lead figures in the protest in Africa against female genital mutilation as well as birth control. She has traveled widely in African villages to spread and popularize the message of birth control among poor African women. In fact, 2006 she was profiled in The Village Voice for her outstanding contributions to birth control among African women.


Death of Zelda Kaplan: News from New York Fashion Week

The age of Zelda Kaplan was 95 as she breathed her last today, February 15th, 2012, while attending the New York Fashion show. She was, as ever, seated in the front row of the Joanna Mastroianni runway show, when after some time she began to flutter her eyes and finally collapsed. The securities rushed to her aid and she was soon taken to the physicians, but they failed to revive the old philanthropist. Fashion Calendar publisher Ruth Finley was seated just next to her, and Zelda Kaplan collapsed right in her lap. Joanna released a statement, saying that she was "best known for her sense of style and her incredible joie d'viv...an icon in the fashion industry".



If you know more about Zelda Kaplan, please let us know as a response below.