Oscar nominee (2012) costume designer Sandy Powell: A wiki biography

Noted costume designer Sandy Powell has been nominated for Oscar 2012. Take a sneak peak at her life and achievements and watch out for the 84th Academy Awards! Read this wiki biography of Sandy Powell to more about the bio, personal information, contact profile and other details of Sandy Powell.


The popularity of costume designer Sandy Powell is increasing like wildfire these days. Just let someone hear her name and he or she will tell you that Sandy Powell was the most talented costume designer in The Young Victoria, a 2009 period-drama movie. She won an Oscar for it, too. Sandy Powell had also won several awards like Evening Standard Awards, Academy Awards, BAFTA Award etc. Anyone interested in fashion and fashion designing cannot help loving and admiring Sandy Powell. Keep reading to know more about the life and works of Sandy Powell, one of the most gifted costume designers on this earth.


The Life of Sandy Powell: Biographic facts and details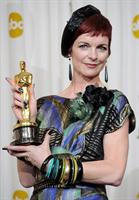 Date of birth of Sandy Powell: 7 April 1960
Present age of Sandy Powell: 51
Place of birth of Sandy Powell: Britain
Institution studied: London central school of art
Facebook profile page of Sandy Powell: There is a Facebook fan page of Sandy Powell at the following URL - http://www.facebook.com/pages/Sandy-Powell/271089011708#!/pages/Sandy-Powell/271089011708

Sandy Powell had an interest in clothes as well as dressing up from the child hood itself. From an early age itself, Sandy started sewing clothes for dolls and herself. Her love of costumes started at a young age itself after seeing a show in the theatre. In an interview Sandy informed that she always liked fashion, but she never wanted to work as a fashion designer. Some of her inspirations include Dior, Balenciaga, Vionnet(from the past) and contemporary designers like Yamamoto, McQueen, Gaultier and many more. According to Sandy, among the costumes done so far, one of the longest costumes to complete was Victoria's coronation robe.


The rise of Sandy Powell as a costume designer

As we all know today this costume designing is becoming popular some of you may be interested to become a costume designer in future. If we ask Sandy an advice for this point, she says that any person who is interested to become a costume designer must first learn to sew. Most of you may be thinking why sewing is important in costume industry? Based on Sandy's experience she says that sewing is essential to know how a costume is constructed for proper designing. Apart from this, she also added that people should be prepared for low paid work to begin with and don't give up. That means hard work is needed to prove your talents as a costume designer in the movie industry. Keep in mind that Sandy Powell was appointed as the OBE (Officer of the order of the British Empire) in the 2011 New year honors for services to the film industry. Now there is latest news regarding Sandy Powell. Go through the following points, where you will get important information regarding this costume designer.


Sandy Powell at the Oscars

It's important to note that the 84th academy awards ceremony hosted by AMPAS to honor the best films of 2011 will be held at Kodak theatre in Hollywood, California on 26 February 2012. For this 84th academy awards, Sandy Powell is a nominee in the best costume design category. She has been selected as a nominee for the efforts she made as a costume designer in the film Hugo, which is a 3D family mystery film directed by Martin Scorsese. The film is based on Brian Selznick's novel the invention of Hugo Cabret about a boy who lives alone in Paris railway station. The 84th academy awards timings are 4:00 PM PST and 7:00 PM EST. Watch whether Sandy Powell will win the Oscar award for best costume designer.




Image courtesy: louisegreen.com