Tips to become a great fashion designer

Are you interested to become a fashion designer? If yes, keep in mind that there are certain tips that help you to become a great fashion designer. Read this article to know more about designers in fashion, clothing, accessories, footwear, fashion designer tips and many more. Be a great fashion designer to the fashion industry in future.


Fashion is a world that is growing day by day. Those who wish to prove their talents in fashion industry have excellent opportunities now. We cannot force a person to a particular field. This is not the case with fashion alone. That means a person with a keen interest in a particular subject can enjoy the work he creates. There are several tips which help you to become a great fashion designer. But before going into the tips, I think it is better to mention about the job of a fashion designer. Fashion designers are the brain behind the dresses, suits, shoes and other accessories purchased by consumers every year. Since the fashion trends are daily changing, it's important that a fashion designer should study those trends.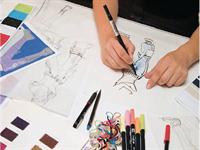 Different types of fashion designers

Some people are considered as experts in designing clothes or footwear or accessories while some are talented in all these fashion categories. I think you know the meaning of this cloth designers, footwear designers or accessory designers. Anyway for your convenience I will provide some details. Persons who help to create and produce casual wear, sportswear, outerwear, formalwear, suits etc. of men, women and children are considered as clothing designers while those who create and produce shoes and boots are footwear designers. But the accessory designers are talented persons who can produce handbags, scarves etc. These fashion designers gets the opportunity to showcase their talents in fashion shows, red carpet dresses fashion, celebrity dresses and many more. The opportunity of a fashion designer is very high. After reading this article up to this point, I think you have an opinion that it's so easy to become a fashion designer. If you are so interested to become a fashion designer in future, then read the following tips.


Becoming a fashion designer tips

Fashion designers should have an excellent communication as well as problem solving skills. I think you got the idea why good communication is essential? We all know that a number of people are involved in this field and as a designer if you are having excellent communication skills, then you can easily communicate with each other. Sketching ability will be an important advantage in this field. Even though computer aided designs are available now, if you have the ability to sketch designs then it will be an additional advantage for you. Some factors like budget, marketing, sales concepts play an important role in getting designs produced and sold. For this purpose, you should have excellent business skills.

You should have the ability to create new styles in fashion as the repletion of styles is not suitable for a good fashion designer. If you are interested to become a fashion designer, then you must understand the sewing and pattern making skills. This is highly competitive field. Some designers work alone while others work within a team. So if you are interested to work within a team then you must know the works of other people also. A good fashion designer should have strong visualization abilities. Remember that fashion designer is a field in fashion industry which requires constant contact with manufactures, suppliers and buyers around the world so you must have excellent skills to rise to the top of this world as a great fashion designer.



Image courtesy: fashiondesignernewyork.net