Miss USA 2012 contestants – Who won the title?

Looking for Miss USA 2012 pageant and contestants? If yes, wait for a while as the show will be starting only by 3 June 2012. Meanwhile read this article to know more about Miss USA 2012 regarding its venue, date, contestants, presenters and many more!


Miss USA 2012, which is the 61st Miss USA pageant, will be held at the Theatre for the performing Arts in Las Vegas, Nevada, USA. Las Vegas is a place where you can see glamorous and unique hotel casinos. Miss USA 2012 date will be 3 June 2012. This pageant will be televised live on NBC. It's interesting to note that 50 states and the District of Columbia will be competing for this prestigious title. Miss USA 2012 hosts will be Andy Cohen and Giuliana Rancic. As we all know this is a contest, where you can see so many pretty girls with their beautiful smile and sparkling clothes. I know your curiosity to know more about the candidates who participate for Miss USA 2012. So read the rest of this article where you will get more information regarding the contestants.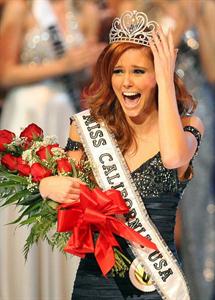 Miss USA 2012 candidates


Miss Wyoming USA 2012: Holly Allen


Miss California USA 2012: Natalie Pack


Miss Alabama USA 2012: Katherine Webb


Miss Alaska USA 2012: Jessica Kazmierczak


Miss Arizona USA 2012: Erika Frantzve


Miss Arkansas USA 2012: Kelsey Dow


Miss Colorado USA 2012: Marybel Gonzalez


Miss Connecticut USA 2012: Marie Lynn Piscitelli


Miss Delaware USA 2012: Krista Clausen


Miss District of Columbia USA 2012: Monique Tompkins


Miss Florida USA 2012: Karina Brez


Miss Georgia USA 2012: Jasmyn Wilkins


Miss Hawaii USA 2012: Brandie Cazimero


Miss Idaho USA 2012: Erna Palic


Miss Illinois USA 2012: Ashley Hooks


Miss Indiana USA 2012: Megan Myrehn


Miss Iowa USA 2012: Rebecca Hodge


Miss Kansas USA 2012: Gentry Miller


Miss Kentucky USA 2012: Amanda Mertz


Miss Louisiana USA 2012: Erin Edmiston


Miss Maine USA 2012: Rani Williamson


Miss Maryland USA 2012: Nana Meriwether


Miss Massachusetts USA 2012: Natalie Pietrzak


Miss Michigan USA 2012: Kristen Danyal


Miss Minnesota USA 2012: Nitaya Panemalaythong


Miss Mississippi USA 2012: Myverick Garcia


Miss Missouri USA 2012: Katie Kearney


Miss Montana USA 2012: Autumn Muller


Miss Nebraska USA 2012: Amy Spilker


Miss Nevada USA 2012: Jade Kelsall


Miss New Hampshire USA 2012: Ryanne Harms


Miss New Jersey USA 2012: Michelle Leonardo


Miss New Mexico USA 2012: Jessica Martin


Miss New York USA 2012: Johanna Sambucini


Miss North Carloina USA 2012: Sydney Perry


Miss North Dakota USA 2012: Jaci Stofferahn


Miss Ohio USA 2012: Audrey Bolte


Miss Oklahoma USA 2012: Lauren Lundeen


Miss Oregon USA 2012: Alaina Bergsma


Miss Pennsylvania USA 2012: Sheena Ponnin


Miss Rhode Island USA 2012: Olivia Culpo


Miss South Carolina USA 2012: Erika Powell


Miss South Dakota USA 2012: Taylor Neisen


Miss Tennessee USA 2012: Jessica Hibler


Miss Texas USA 2012: Brittany Booker


Miss Utah USA 2012: Kendyl Bell


Miss Vermont USA 2012: Jamie Dragon


Miss Virginia USA 2012: Catherine Muldoon


Miss Washington USA 2012: Christina Clarke


Miss West Virginia USA 2012: Andrea Rogers


Miss Wisconsin USA 2012: Emily Guerin




Miss USA 2012 winner will represent USA at Miss Universe 2012. Another fact is that Alyssa Campanella , who was Miss USA 2011 will crown her successor at the end of this Miss USA 2012 contest. It should be noted that Miss USA 2012 judges will be announced later.



Image courtesy: shinymeteor.blogspot.com