Miss Teen USA 2012 live online- List of contestants

Waiting to see Miss Teen USA 2012 contests? If yes, remember that Miss Teen USA 2012 will be held only on 28 July. Read this article to know more about this pageant regarding its venue, participants, winners, results, judges, Miss Teen USA live stream details and many more!


Miss Teen USA 2012 pageant, an exciting show , where talented girls can show their beauty and dressing style to the whole world will be held on 28 July 2012. The venue of Miss Teen USA 2012 is the Grand Ballroom of Atlantis Paradise Island in Nassau, Bahamas. This is the 30th Miss Teen USA pageant where 50 states and the District of Columbia will compete for the prestigious title. But we have to wait 2 more months to know Miss Teen USA 2012 results. I know your curiosity to know the details of Miss Teen USA 2012. So read this whole article to know more about this pageant.


Miss Teen America 2012 contestants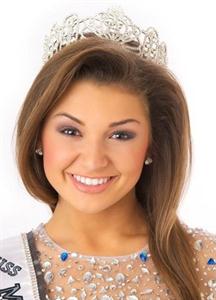 Miss Alabama Teen USA 2012: Peyton Brown


Miss Alaska Teen USA 2012: Veronica Temple


Miss Arizona Teen USA 2012: Alexa Zellers


Miss Arkansas Teen USA 2012: Amber Mitchell


Miss California Teen USA 2012: Alexa Jones


Miss Colorado Teen USA 2012: Jacqueline Zuccherino


Miss Connecticut Teen USA 2012: Logan West


Miss Delaware Teen USA 2012: Angela Viscount


Miss District of Columbia Teen USA 2012: Sierra Hadley


Miss Florida Teen USA 2012: Sydney Martinez


Miss Georgia USA 2012: Courtney Smits


Miss Hawaii Teen USA 2012: Kathryn Teruya


Miss Idaho Teen USA 2012: Kimberly Layne


Miss Illinois Teen USA 2012: Alexandra Plotz


Miss Indiana Teen USA 2012: Mackenzie Surber


Miss lowa Teen USA 2012: Carissa Becker


Miss Kansas Teen USA 2012: Katie Taylor


Miss Kentucky Teen USA 2012: Tiffany Cline


Miss Louisiana Teen USA 2012: Marlee Henry


Miss Maine Teen USA 2012: Molly Fitzpatrick


Miss Maryland Teen USA 2012: Stephanie Chervenkov


Miss Massachusetts Teen USA 2012: Jordyn Jagolinzer


Miss Michigan Teen USA 2012: Courtney Pizzimenti


Miss Minnesota Teen USA 2012: Kendra Berger


Miss Mississippi Teen USA 2012: Jessica Carter


Miss Missouri Teen USA 2012: Jayde Ogle


Miss Montana Teen USA 2012: Danic Jansma


Miss Nebraska Teen USA 2012: Sarah Summers


Miss Nevada Teen USA 2012: Katie Eklund


Miss New Hampshire Teen USA 2012: Marisa Deluca


Miss New Jersey Teen USA 2012: Kendal Barrett


Miss New Mexico Teen USA 2012: Jacqueline Cai


Miss New York Teen USA 2012: Sabrina Mastrangelo


Miss North Carolina Teen USA 2012: Katherine Puryear


Miss North Dakota Teen USA 2012: Tiffany Fletschock


Miss Ohio Teen USA 2012: Kendall Fein


Miss Oklahoma Teen USA 2012: Jessica Lee Morgan


Miss Oregon Teen USA 2012: Kiana Benion


Miss Pennsylvania Teen USA 2012: Julia Belechak


Miss Rhode Island Teen USA 2012: Livia Stencel


Miss South Carolina Teen USA 2012: Shannon Ford


Miss South Dakota Teen USA 2012: Kalani Jorgensen


Miss Tennessee Teen USA 2012: Shanese Brown


Miss Texas Teen USA 2012: Madison Lee


Miss Utah Teen USA 2012: Keilara McCormick


Miss Vermont Teen USA 2012: Karsen Woods


Miss Virginia Teen USA 2012: Elizabeth Coakley


Miss Washington Teen USA 2012: Alex Carlson-Helo


Miss West Virginia Teen USA 2012: Elizabeth Sabatino


Miss Wisconsin Teen USA 2012: Briana Yamat


Miss Wyoming Teen USA 2012: Sydney Graus




Miss Teen USA 2012 winner will be crowned by Danielle Doty, Miss Teen USA 2011. Miss Teen USA 2012 live webcast is available on the official Miss Teen USA website over its UStream channel and also in Xbox Live. Miss Teen USA 2012 judges / hosts will be announced later.



Image courtesy: tftj.com