Miss Dominican Republic 2012 Pageant – Meet Miss Republica Dominicana 2012 Contestants

Searching for Miss Dominican Republic 2012 Pageants? If yes, you have come to the correct page. Read this article about Miss Republica Dominicana 2012 contests to know more about its date and venue, Miss Dominican Republic 2011, broadcaster, candidates, special awards, preliminary awards, Miss Dominican Republic 2012, results and many more! Who will be Miss Republica Dominicana 2012?


Miss Dominican Republic 2012 contest will be held in Renaissance Auditorio de Festival del Hotel Jaragua, Santo Domingo, Dominican Republic on 17 April 2012. Dalia Fernandez, Miss Dominican Republic 2011 will crown Miss Dominican Republic 2012 winner. Another fact is that Miss Republica Dominicana 2012 winner will be representing the Dominican Republic in the Miss Universe pageant that will be held on December 2012. The first runner -up will enter Miss Earth 2012; second runner-up will be representing Reina Hispanoamericana 2012 while the third runner-up will enter Miss Intercontinental 2012 respectively.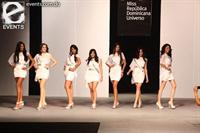 Miss Dominican Republic 2012 Contestants


Miss Azua 2012: Zaldy Diaz Espinal


Miss Bahoruco 2012: Jessica Hidalgo Cruz


Miss Barahona 2012: Elizabeth Ibanez Reyes


Miss Comunidad Dominicana En Estados Unidos 2012: Nathalie Munoz Santos


Miss Comunidad Dominicana En Puerto Rico 2012: Vanessa Myint Lopez


Miss Comunidad Dominicana En Venezuela 2012: Karen Luna Peguero


Miss Dajabon 2012: Marlyn Elanny Rivas Ramirez


Miss Distrito Nacional 2012: Dulcita Lynn Lieggi Francisco


Miss Duarte 2012: Karen Yapoort Evangelista


Miss El Seibo 2012: Yirell Acosta Mercedes


Miss Elias Pina 2012: Teresa Jimenez Tejada


Miss Espaillat 2012: Katherine Polanco Echenique


Miss Hato Mayor 2012: Laura Guzman Rodriguez


Miss Hermanas Mirabal 2012: Lia Jimenez Batista


Miss Independencia 2012: Laura Pena Rodriguez


Miss La Altagracia 2012: Scarlet Hernandez Vasquez


Miss La Romana 2012: Jennifer Garcia Caceres


Miss La Vega 2012: Carola Duran Baldera


Miss Maria Trinidad Sanchez 2012: Liza Maria Blanco Garcia


Miss Monsenor Nouel 2012: Yildry Estefania Pena Santos


Miss Monte Cristi 2012: Ambar Cabrera Duarte


Miss Monte Plata 2012: Francia Santana Cruz


Miss Pedernales 2012: Yolaine Santiago Iglesias


Miss Peravia 2012: Alondra Pena Pacheco


Miss Puerto Plata 2012: Paloma Almonte Reynoso


Miss Samana 2012: Veronica Batista Caroles


Miss San Cristobal 2012: Illia Miriam Molina Mejia


Miss San Jose de Ocoa 2012: Luz Mariel Quezada Baez


Miss San Juan 2012: Pamela Fernandez Mesa


Miss San Pedro de Macoris 2012: Yolenny Mora Medina


Miss Sanchez Ramirez 2012: Emilin Castillo Mejia


Miss Santiago 2012: Carolyn Hawa Rodriguez

Miss Santiago Rodriguez 2012: Eliangy Rosario Nunez


Miss Santo Domingo Este 2012: Mabel Baez Vasquez


Miss Santo Domingo Norte 2012: Yudelsi de Raben Diaz


Miss Santo Domingo Oeste 2012: Ericka Santana Campusano


Miss Valverde 2012: Angelly Anes Guillen Gomez


Miss Dominican Republic 2012 broadcaster include Antena Latina & Canal 21 respectively. I know your curiosity to know the several awards presented during this Miss Dominican Republic 2012 contests. So check the following points where you will get more information.


Miss Dominican Republic Awards


Miss Photogenic


Best Model


Best National Costume


Miss Congeniality


Best Face


Best Skin




Best Smile


Miss Primavera


Miss Fitness


Miss Communication


Miss VIP Laser Clinic


Miss Brahma La Mas Nitida


Miss Dominican Republic 2012 results


Miss Republica Dominicana 2012


Top 8 Quarter-Finalists


Top 16 Semi-Finalists


First Runner-up


Second Runner-up


Third runner-up




Image courtesy: globalbeauties.com