Call for I AM She 2012 – Miss Universe India

Trying to apply for I AM She 2012 – Miss Universe India? If yes, this is the opportunity for you. Read this article to know more about I AM She 2012 – Miss Universe India regarding its address, telephone, Email ID, how to apply, rules and regulations, timeline and many more!


I AM She-Miss Universe India is a national beauty pageant of India which was started in the year 2010. The headquarters of I AM She-Miss Universe India is Mumbai. This is the third pageant of I AM She, the first of which was conducted on 2010. Now there is an excellent opportunity for you to apply for I AM She 2012.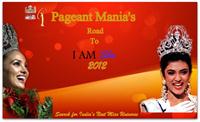 Contact I AM She

I AM She
C/o Tantra Entertainment Pvt Ltd,
Palatial, 2nd Floor, 21st Road,
Bandra(W), Mumbai 400050
Maharashtra state, India
Tel: 022- 32250007
Email: iamshe.radhika@gmail.com

I AM She- Miss Universe India Website www.iam-she.com

I AM She 2012 call for entries available at http://www.iam-she.com/2011/callforentries2012.php


Criteria for entrants in I AM She 2012


Should be between 18-27 years of age as on 1 February 2012. In order to prove your age(driver's license, passport, school leaving certificate, birth certificate)at the time of auditions, you have to bring the original as well as one set of photocopy along with the hardcopy of photographs


Must be a natural- born female


Must be an Indian citizen


Should possess an Indian passport


I AM She winner will have to abide by the rules and regulations of TEPL


Only persons having good health can participate in I AM She 2012


Only applicants are permitted inside the designated venue of the event


Applicants should not wear colored lenses


Expenses including travel, stay etc. must be borne by the participants, as and when required


Applicants must give up any commercial contract with any modeling agency on becoming an I AM She 2012 finalist


Candidates must be a bonafide Indian citizen and must have resided in India for a minimum of 6 months before I AM She 2012 pageant


Those who wish to apply for I AM She 2012 contest must not / have not been married. They should never have a marriage annulled or never given birth to a child or have never been a parent. If there is any change in this condition, the applicants should notify the I AM She 2012 organizers immediately


Applicants' height must be 5 ft 7 inches or more with a corresponding weight


All I AM She 2012 finalists have to sign a full form agreement for entry into I AM She 2012 pageants




For clarifications, you can contact +91 22 3325 0007(National Director's Office on all days except Saturday and Sunday) or check the official site.


I AM She 2012 timeline


Call for entries: 21 May 2012


Auditions: 1st Week of June 2012


Grooming: 2nd Week of July 2012


Finale: End of July 2012