Pantaloon Femina Miss India (PFMI) 2012 contest - TV telecast and online streaming

Pantaloon Femina Miss India 2012 has been conducted in a great ambiance with lots of celebrities presenting rocking entertaining program. The program will be aired today on 15th April. See details about telecast and online streaming and highlights of PFMI 2012.


Pantaloon Femina Miss India (PFMI) 2012 finals was conducted at Lavasa and there were some great entertaining program with celebrities like Sonu Nigam, Nargis Fakiri, ex Miss India Manasvi Mamgai and many more. The celebrities along with 12 stunning beauties made the event lively.


Celebrities and programs at Pantaloon Femina Miss India 2012 events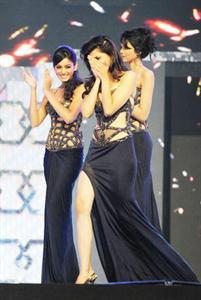 Among the famous celebrities few of them who graced the occasion were..
Sonu Nigam (singer and actor) - SOnu also performed in the event.
Sonali Bendre (Actor)
Rohit Shetty (Famous director of bollywood)
Sonam Kapoor (Daughter of Anil Kapoor and actor)
Ali Zafar Pakistani actor) He performed with ex Miss India world and Miss India International Manasvi Mamgai and Neha Hinge)
Harbhajan Singh (cricketer)
Ekta Kapoor
Sakshi Tanwar (TV artist)
Ritesh Deshmukh
Tussar Kapoor
There were many more stunning program with some spice of comedy as well.


Time and date of telecast of Pantaloon Femina Miss India 2012

Most of you might be waiting to see this mega event which was held on 4th April 2012. This PFMI 2012 will be aired on Sony TV on 15th APril Sunday from 10.00 PM.