Miss Philippines Earth 2012 pageant- List of participants

Waiting to see Miss Philippines Earth 2012 contests? If yes, wait for a while as the pageant will be held only by 27 May 2012. Meanwhile read this article to know more about this pageant regarding its venue, broadcaster, contestants, winner, special awards, official website and many more! Who wins the title Miss Philippines Earth 2012?


Miss Philippines Earth 2012, which is the most beauty pageant of Philippines, will be held on 27 May 2012 at the center stage of SM Mall of Asia in Pasay city, Philippines. This is the 12th edition of the advocacy-driven Miss Philippines Earth beauty pageant where participants as well as winners work on the environmental- social-humanitarian advocacy of this pageant. Also note that his pageant will be focusing mainly on sustainable energy issues. Miss Philippines Earth 2012 contestants will battle it out in different fields that will test their creativity, cooking skills, endurance, make-up skills, talent, their walk in the runway and their knowledge of environment as well as energy related issues.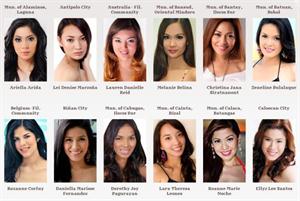 Miss Philippines Earth 2012 website: www.missphilippines-earth.com


Miss Philippines Earth 2012 Delegates
Ariella Arida, 23 – Alaminos, Laguna
Lei Denise Marzona, 23- Antipolo city
Dianne Dreyfus, 21- Bacolod city
Christina Jana Siratnanont, 25- Bantay


Queenie Uy, Batangas city
Zeneline Bulalaque, 20- Batuan


Roxanne Corluy, 20- Belgium's Filipino Community
Daniella Marisse Fernandez, 19- Binan
Dorothy Joy Pagurayan, 24- Cabugao


Lara Theresa Leones, 24- Cainta
Roanne marie Noche, 21- Calaca


Melanie Belina, 19- Calapan city
Ellyz Lee Santos, 19- Caloocan city
Maricel Mansano, 24- Candon city
Jem Francelle Sanico, 21- Catarman
Janica Burasca, 19- Cebu city
Ina Dominica Guerrero, 18- Daraga
Jennifer grace Alberto, 22 – Floridablanca


Dane Felisse Marasigan, 21-Ibaan
Alvy Faith Pel-Ey, 19- Ifugao Province
Jaydielou Dilidili, 24- Indang
Bhertie Bagaporo, 22- Iriga city
Nylever Carandang, 21- Kawit
Trissia Joy Aldave, 18- Libmanan
Jennifer Edytha japor, 21- Lucena city
Abbygale Rey, 20- Makati city
Zandra Flores, 22- Manaoag
Maria Genefe Navilom, Mandaue city
Aufelyn Zabala, 22- Marilao


Jade Charmaine Manago, 19- Misamis Occidental Province
Kathleen Subijano, 24- Muntinlupa city
Ivy Salvino, 23- Nabua


Glenna Christina Duch, 18- Negros Oriental Province
Crislet Gerona, 21- Pagadian city
Krystal Alonday, 20- Paombong


Gail Garcia, 24- Pasay city
Thoreen Halvorsen, 19- Puerto Princesa city
Stephany Stefanowitz, 22- Quezon city
Mary Joyce Cruz, 19- Rodriguez
Margaret May Liavor, 21- San Fernando


Princess Manzon, 25- San Francisco
Samantha Purvor, 24- San Juan City
Dianne Ramos, 22- Subic
Glennifer Perido, 22- Tabuk city
Meryl Angeline King, 23- Tiaong
Kaylee Calaguas, 19- USA's West Coast Filipino Community
Candice Ramos, 24- Vigan
Kristina Cassandra Buac, Zamboanga city


Miss Philippines Earth 2012 winner will be crowned by Miss Philippines Earth 2011 Athena Mae Imperial. Other awards that will be announced during this pageant include Miss Philippines Water 2012, Miss Philippines fire 2012, Miss Philippines Air 2012 and Miss Philippines Eco Tourism 2012 respectively. It should be noted that Michelle Gavagan(Miss Philippines Fire 2011), Jonavi Raisa Quiray(Miss Philippines Air 2011), Murielle Adrienne Orais(Miss Philippines Water 2011) and Tarhata Clio Shari Rico(Miss Philippines Eco Tourism 2011) will crown their successors at the end of this event. Miss Philippines Earth 2012 live can be seen at The Filipino Channel and ABS-CBN respectively.



Image courtesy: pageantworld.forums1.net