Fashion magazine editor careers- How to become a fashion magazine editor?

Trying to become a fashion magazine editor for one of the popular fashion magazines of USA? If yes, read this artile to know the tips to become a fashion magazine editor regarding its job description, salary, US schools and programs, US fashion magazines and many more!


Fashion magazine editor is one of the attractive as well as challenging job in the fashion world for aspiring candidates who wish to take one of the top most jobs in fashion career. To be a fashion magazine editor is a difficult job. As we all know hard work is the success key behind any job, the same applies to this profession also. A person who wish to take this career must be passionate about fashion and must be able to work with persons from different professions so as to create a fashion spread for a magazine. In general terms we can say that a fashion magazine editor should be capable of handling the fashion writers who reports the current fashion news.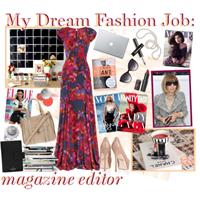 I have mentioned in the previous sentence that a fashion magazine editor must be capable of working with persons from different professions.

But I think I should clear that sentence once more. Do you know about the different professions I mentioned? It's none other than the job of a fashion writer, advertiser as well as photographer. We all know that these professionals are all part of a fashion magazine. In simple terms we can say that if you wish to take the profession of a fashion magazine editor, then you are the responsible person to ensure that readers are given the most up to date information regarding fashion trends. In addition you should have the ability ot oversee the allocation of print space for photos, captions and story text. I guess from this small points mentioned itself, you all have the idea that this is a highly competitive profession. An important fact regarding any profession lies in the salary, which is paid for the hardwork we do. I am sure a person who is interested to take the challenging job of a fashion magazine editor, will also pay attention to the salary. According to the US Bureau of Labor Statistics, the median annual wage of a fashion magazine editor is found to be $58270. You might be interested to know more about the educational qualifications, degrees, top schools that provide courses to become a fashion magazine editor and many more from this post. So read the rest of this article to know more about the fashion magazine editor profession.


Educational qualifications required for a fashion magazine editor

As we all know a degree in journalism is a must for a person who wish to take the profession of an editor. But in the case of a fashion magazine editor, a degree in fashion designing or merchandising is needed. Some important programs that might help you to take this profession includes

BA in Journalism and Mass Communication
BS in Communication- New Media
BS in Communication- Public Relations
BS in Communication- Communication and Technology
BS in Communication- Culture and Communication
Associate of Arts in Communications
MS in New Media Journalism
MFA in Creative writing
MFA in Media Design
BFA in Creative Writing and Entertainment
Top schools of USA providing programs to become a fashion magazine Editor
Ashford University
400 North Bluff Blvd.
Clinton, IA 52732
Full Sail University
Campus: 800.226.7625
Online: 888.993.7338 |3300 University Boulevard - Winter Park, Florida 32792
Walden University
155 5th Avenue South, Minneapolis, MN 55401
www.waldenu.edu
Arizona State University
1151 S Forest Ave Tempe, AZ 85281
(480) 965-9011
www.asu.edu
Kaplan University
1801 E Kimberly Rd Ste 1, Davenport, Iowa, 52807
Grand Canyon University
3300 West Camelback Road Phoenix, AZ 85017
(602) 639-7700
University of Phoenix
4635 East Elwood Street Phoenix, AZ 85040
(602) 387-7000
Southern New Hampshire University
Southern New Hampshire University | 2500 North River Road, Manchester, NH, 03106 | 800.668.1249
Simple tips to become a fashion magazine editor
If you are interested to become a fashion magazine editor, you have to gain experience in fashion industry and journalism. They should have strong writing and editing skills. In addition to the above mentioned programs, some bacherlor programs are degree programs in fashion journalism, fashion marketing, fashion merchandising etc. Also you can gain experience with college media which includes working at a college newspaper or radio/television stations. This work generated can be used to show your future employers. Also you can complete an internship experience which is helpful for building your resume. After completing your programs and experience, try to write for fashion magazines and websites which will be helpful for you to get contacts with the fashion world as well as knowledge and experience of the industry. Morever you should have a thorough knowledge of fashion trends, fabrics and styles. Try to become an assistant to fashion stylist first but you must be prepared to do it for free. In the next step try to get an internship with fashion magazine, but never expect any salary in return. After gaining necessary experience in this field, now you are ready to apply for a job at major fashion magazines. Keep in mind, when applying you should have a detailed cover letter, impressive resume which includes a published work or portfolio of fashion spreads. Here I will provide the list of some fashion magazines in US.



Fashion magazines in US with their official websites
Zink: www.zinkmagazine.com
W: www.wmagazine.com
Vogue: www.voguemagazine.com
The Los Angeles Fashion Magazine:www.thelosangelesfashion.com
Teen Vogue: www.teenvogue.com
V: www.vmagazine.com
Paper: www.papermag.com
Nylon Guys: www.nylonguysmag.com
Nylon: www.nylonmag.com
Manhattan Fashion magazine: www.manhattanfashionmagazine.com
Jewelry Notes: www.jewelrynotes.com
IDEE FIXE: www.ideefixemagazine.com
Complex: www.complex.com
Image courtesy: polyvore.com