52nd Miss International Beauty Pageant(2012)- Meet the miss international 2012 candidates

Are you ready to welcome the Miss International 2012 winner? If yes, wait for a while as the pageant will be held only by October 2012. Meanwhile read this article to know more about Miss international 2012 regarding its date and venue, Miss International 2012 contestants, Miss International 2012 winner, official website of miss international pageant and many more!


Miss international beauty pageant 2012, which is the 52nd edition will be held at Japan on 21 October 2012. For the first time, this Miss international was started in California in the year 1960. There is an interesting fact regarding California located in USA and the Miss International beauty pageant. As a lover of this pageant shows, you might be interested to know the fact regarding it. From 1960-1967, California was the venue for Miss international pageant shows. From 1968-1970, this beauty festival was moved to Japan, to commemorate the Osaka World Expo,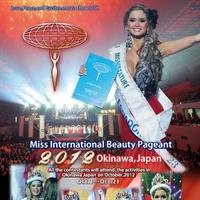 which in turn led to be staged every year in Japan from 1972 onwards. For your convenience, I will provide more details regarding this pageant 2012. Miss International 2012 venue will be Nikko Naha Grand Castle Hotel, Naha, Okinawa, Japan. The winner of Miss International 2012 will be crowned by Maria Fernanda Cornejo Alfaro, Miss Ecuador 2011 and Miss International 2011. I think you might be interetesd to know more about the Miss International 2012 candidates.


List of Miss International 2012 participants
Sarah Jane Fraser: Age: 21, Height: 1.70 m, Country(Australia)
Lusine Beglaryan: Age: 22, Height: 1.74 m, Country(Armenia)
Daiana Incandela: Age: 23, Height: 1.83 m, Country(Argentina)
Anastasia Pogranichnaya: Age: 20, Height: 1.77 m, Country(Belarus)
Destinee Arnold: Age: 19, Height: 1.68 m, Country(Belize)
Rafaela Butarelli: Age: 23, Height: 1.78 m, Country(Brazil)
Stephanie Nunez: Age: 22, Height: 1.75 m, Country(Bolivia)
Marta Jablonska: Age: 23, Height: 1.78 m, Country(Canada)
Zhang Chengcheng: Age: 25, Height: 1.75 m, Country(China)
Mariam Natasha SIbaja Bermudez: Age: 21, Height: 1.68 m, Country(Costa Rica)
Melissa Carolina Varon Ballesteros: Age: 24, Height: 1.79 m, Country(Colombia)
Francoise Odette Ngoumou: Age: 22, Height: 1.77 m, Country(Cameroon)
Melody Mir Jimenez: Age: 22, Height: 1.81 m, Country(Dominican Republic)
Xenia Likhacheva: Age: 22, Height: 1.70 m, Country(Estonia)
Tatiana Loor: Age: 20, Height: 1.73 m, Country(Ecuado)
Lidia Avomo: Age: 20, Height: 1.76 m, Country(Equatorial Guinea)
Marlin Ramirez: Age: 21, Height: 1.72 m, Country(El Salvador)
Melkam Endale: Age: 21, Height: 1.73 m, Country(Ethiopia)
Marion Amelineau: Age: 23, Height: 1.79 m, Country(France)
Viivi Suominen: Age: 24, Height: 1.74 m, Country(Finland)
Channa Divouvi: Age: 23, Height: 1.70 m, Country(Gabon)
Kerrianne Massetti: Age: 23, Height: 1.84 m, Country(Gibraltar)
Aline Massel: Age: 25 , Height: 1.72 m, Country(Germany)
Mariam Girmisashvili: Age: 20, Country(Georgia)
Christa Garcia Gonzalez: Age: 19, Height: 1.70 m, Country(Guatemala)
Aude Belenus: Age: 21, Country(Guadeloupe)
Chanel Cruz Jarrett: Age: 18, Height: 1.73 m, Country(Guam)
Velasques Morales Shirley Nicole: Age: 22, Height: 1.76 m, Country(Honduras)
Tracy Tsin Suert Chu : Age: 24, Height: 1.66 m, Country(Hongkong)
Claudia Kozma: Age: 21, Height: 1.70 m, Country(Hungary)
Anedie Azael: Age: 22, Height: 1.77 m, Country(Haiti)
Giulia Masala: Age: 19, Country(Italy)
Rochelle Maria Rao: Age: 23, Height: 1.70 m, Country(India)
Liza Elly: Age: 21, Height: 1.76 m, Country(Indonesia)
Yael Markovich: Age: 22, Height: 1.68 m, Country(Israel)
Ikumi Yoshimatsu: Age: 24, Height: 1.70 m, Country(Japan)
Lee Jung-bin: Age: 23, Height: 1.70 m, Country(Korea)
Kristina Viluma: Age: 22, Height: 1.65 m, Country(Latvia)
Asta Jakumaite: Age: 20, Height: 1.75 m, Country(Lithuania)
Cynthia Moukarzel: Age: 24, Height: 1.70 m, Country(Lebanon)
Mei Xian Teng: Age: 22, Height: 1.80 m, Country(Malaysia)
Cherry Ng: Age: 25, Height: 1.68 m, Country(Macau)
Nang Khin Zay Yar: Age: 23, Height: 1.69 m, Country(Myanmar)
Ameeksha Dilchand: Age: 24, Height: 1.76 m, Country(Mauritius)
Hannah Carson: Age: 24, Height: 1.70 m, Country(New Zealand)
Happiness Onu Ibagbi: Country(Nigeria)
Reyna Perez: Age: 19, Country(Nicaragua)
Paulina Malulu: Age: 19, Height: 1.85 m, Country(Namibia)
Karenelena Jordanbeitia: Age: 23, Height: 1.75 m, Country(Panama)
Nicole Schmitz: Age: 23, Height: 1.73 m, Country(Philippines)
Rozalia Mancewicz: Age: 25, Height: 1.75 m, Country(Poland)
Ashley Ruiz: Age: 23, Height: 1.76 m, Country(Puerto Rico)
Nicole Huber: Age: 21, Height: 1.74 m, Country(Paraguay)
Wynona Redmond: Age: 26 , Height: 1.70 m, Country(Suriname)
Denisa Krajcovicova: Age: 24, Height: 1.80 m, Country(Slovakia)
Leong Ying Mae: Age: 22, Height: 1.74 m, Country(Singapore)
Donique Leonard: Age: 19, Height: 1.75 m, Country(South Africa)
Meltem Tuzuner: Age: 23, Height: 1.76 m, Country(Turkey)
Rungsinee Panjaburi: Age: 20, Height: 1.70 m, Country(Thailand)
Gershun Julia: Age: 22, Height: 1.76 m, Country(Ukraine)
Amanda Delgado: Age: 22, Height: 1.76 m, Country(USA)
Alize Lily Mounter: Age: 22, Height: 1.79 m, Country(UK)
Vanessa Donastorg: Age: 23, Height: 1.72 m, Country(Virgin Islands)


Miss international beauty pageant website: www.miss-international.org

Who will be the winner of miss international 2012? I hope by going through the list of candidates who will participate in this national pageant, you will be having a little curiosity to know who will be crowned as miss international 2012? We have to wait and see who will be crowned by Maria Fernanda Cornejo Alfaro?, Miss International 2011 winner.



Image courtesy: watchmissinternational2012live.blogspot