How to choose the right bridal lehenga color for your skin tone

Looking for some Bridal Lehengas colors suitable for Indian brides? Here we are with some bridal colors that are most fashionable right now. So if your going to be married soon and want to wear Lehenga on your wedding day, read the following article to get information on latest bridal Lehengas colors to get stunning look on your most important day.


Indian wedding is an auspicious occasion and every bride want to look best so she spent lot of time and money to get perfect outfit for the most special day of her life. There are lots of wedding dresses are available in market to choose from but according to me traditional wedding lehengas are the best choice to get the perfect look which every bride wants. Lehengas are of rich colors, which signify festivity and fertility and richness.

Choosing the right color lehengas is very important; traditionally Red is all time favorite color for Indian bride but now day's Indian bride is free to choose almost any color for their wedding dress except black as it symbolize the color of mourning universally.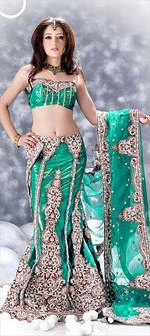 Lehengas colors for Indian brides according to skin tone

Color is one of the most important aspects to consider before purchasing lehengas. There is a wide range of colors to choose but always select the colors which complement your skin tone.

Lehengas colors for fair skin tone: You can wear pink, gold, purple, traditional red Lehengas cholis but these colors should not be too bright. You can also try Colors like peach, lilac, sky blue, sea green and medium range blues etc. but avoid very pale colors (yellow, peach etc.).

Lehengas colors for Wheatish skin tone: Red with pink or fuchsia, earthy rough maroon is best choice for wheatish skin tone.

Lehengas colors for dusky complexion: Shades of pastels like pink, lime green, peach, old rose, turquoise blue, aqua, red, greens and maroons are the most suitable colors for dusky complexion. Sunshine yellow, bright orange, magenta and bright blue is also a good choice and look great on you.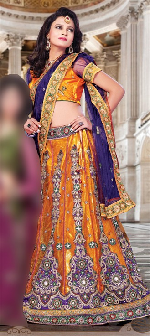 Latest bridal lehenga color trend

Red color lehengas for Indian Bride: Red or Maroon is all time favorite color of Indian bride and it goes well with every skin tone so if you want to go for red or Maroon than you have many options to choose. No matter which skin tone you have, red or maroon lehengas are suitable for all brides. Red color is a symbol of fertility and prosperity.

Pink color lehengas for Indian Bride: Pink is also a best choice for all skin tones. Every bride whether she have fair, Wheatish or dusky complexion can wear pink lehengas. You can wear pink color lehengas with silver work. Pink color is a symbol of romance and love.

Gold and silver color lehengas for Indian Bride: Golden color lehengas is also the best choice for Indian bride, it also suits to all skin tones. You can wear golden color with many other different combinations with red, green, maroon and many other colors as it blends with all colors well. Golden color symbolizes prosperity and happiness whereas silver color lehenga is the best suited for fair complexion.

Green lehengas for Indian Bride: Green a color of fertility is very much popular color you can also try green color lehengas for your wedding day. Use various shades of green like sea green, light green, olive green or whatever shade of green you like but choose them wisely.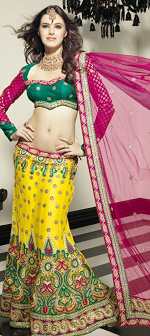 Yellow lehengas for Indian Bride: Yellow color lehengas also looks very beautiful on Indian bride. You can wear yellow with combination of red, green or purple looks very beautiful.

Wine color lehengas for Indian Bride: Wine color is the dark shade of red and looks very beautiful on all skin tone. Wine colour bridal wear with intricate silver thread work is perfect wear on the wedding day. It complements diamond jewellery and light make up.

Orange lehengas for Indian Bride: Orange lehengas is the best suited for dusk complexion. It goes well with green or purple color combinations.


Body shape and choice of color

It is also good to choose the colors according to your body shape, if you are slightly plump, overweight, or broadly built then choose dark color outfit which help you to look slimmer, taller and leaner. But if you are thin or skinny than lighter colors will give you a fuller and curvier appearance.

We hope this information will help you to get right color lehenga for your special day and you will look most beautiful bride.



Image Gratitude: indianweddingsaree.com