Fashion photography exhibition in BMB Gallery, Mumbai, India, November-December 2011

An exhibition of fashion Photography by Robyn Beeche in BMB Gallery revives back the 1980s. Hailing from a time before digitalization, this latest show in Gallery BMB in November-December 2011 is a pleasure to eyes, and a surprise to the brain. Read on to know more about Robyn Beeche fashion photography exhibition in Gallery BMB, Mumbai, India.


It's quite true that fashion is all about making something look more and more beautiful and attractive. Still, is there any alternative of a natural beauty? It is difficult, really difficult to think of fashion photography, nay any school of photography, without the help of photo editing software like Photoshop. Could not believe me? Well, visit the fashion photography exhibition in BMB Gallery, Mumbai, and you will find Robyn Beeche doing the same. An Australian by birth who later moved to London, she had worked and collaborated with several legendary fashion artists and designers. Since 1985, she has been living in India.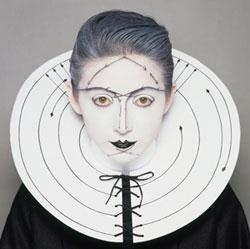 Robyn Beeche's latest fashion photography show entitled An exhibition of Fashion Photography – 80's Retrospective at the Gallery BMB, Mumbai, India, is going to bewilder you for sure. Remember, all of them were done in the 1980s, before the era of digitalization and Photoshop. Here you can see one of the typical fashion photographs by Robyn Beeche. We borrowed it from the official website of the Gallery BMB, thanks to people there doing this great job.

Dates of Robyn Beeche's fashion photography exhibition in BMB Gallery, Mumbai - This latest fashion photography show by Robyn Beeche has already begun on November 4, 2011 and will be continued to December 7.

Oh, you are worrying about the entry fee of Robyn Beeche's fashion photography exhibition in Mumbai, 2011? Throw your thoughts off. It's free!

And then there is a special attraction, you can talk to the artist. Catch Robyn Beeche between 4 to 5 o' clock in the afternoon and see if you can manage to learn something from the maestro about how to turn fashion photography to an art form.

Been there and seen that? Share your experience with us, we would love it!


Image courtesy: Gallery BMB, Mumbai.