Eye Shadow Make Up Tips: How to apply eye shadow correctly?

Want to know how to apply eye shadow correctly? Yes, most of us use eye shadows but still don't know how exactly we can use eye shadows for perfection. Keep reading this article to know more about step by step eye shadow using guide where I have described what are the best ways to apply eye shadow.


The best ways to apply eye shadow are always simple methods followed by many women to know how to apply eye shadow properly. As most people know eye shadow is a cosmetic product that is mainly applied on eyelids and under eyebrows. This is mainly used to make the eyes more attractive. This cosmetic product is available in different colors and textures.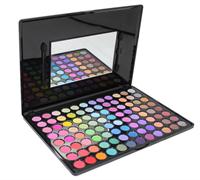 It is believed that eye shadows were used by women from ancient times itself. Now this is a common cosmetic product used everywhere. This is a main item in the make-up kit. While doing make up for eyes, remember that apart from eyeliner, this eye shadow also plays an important place. I know all of you are in a curiosity to know the details of how to apply eye shadow correctly?. But before going into the steps to apply eye shadow, you should know something about this eye shadow. So go through the following points where you will get important information of eye shadow.


Ingredients of eye shadow

All people who use this eye shadow may not be aware about the ingredients present in it. But few exactly know the ingredients of an eye shadow. Remember that eye shadow ingredients are

Mica
Talc
Preservatives
Colorants
Magnesium stearate
Sericite
Ways to apply eye shadow correctly

By reading the above mentioned points, I hope you are familiar with the fact what actually and eye shadow is? Now get ready to know how to apply eye shadow. Any cosmetic product applied properly will give you an attractive look. Here the make-up kit includes dark eye shadow, neutral eye shadow and shadow brush respectively.


Step 1

I have mentioned in the make-up kit about 2 colors namely the neutral eye shadow and the dark eye shadow. First you have to run your eye shadow brush over the neutral color and should tap off any excess shadow.

Step 2

In this step you have to apply the light shadow color across the entire lid from lash line without going as high as eyebrow.

Step 3

Here you have to run the shadow brush over the dark shadow and before applying make sure tot ap off any excessive color present in the brush.

Step 4

Apply dark shadow at the outer corner of the eye which is just above the top lashes. Sweep the shadow brush along the eyelid. Repeat the process several times to blend. Keep in mind that the same steps should be done on the other eye also.




Image courtesy: life123.com, wholesale-in-china.org