Miss Slovakia 2012 Contests : Candidates list

Searching for Miss Slovakia 2012? If yes, wait for some days as Miss Slovensko 2012 pageant will be held on 20 April. Read this article to know about Miss Slovensko 2012 contests regarding its date and venue, live broadcast, Miss Slovensko 2012 winner, Miss Slovakia 2012 candidates, Miss Slovakia 2011 and many more!


Miss Slovakia 2012 pageant will be held at Bratislava, the capital city of Slovakia on 20 April 2012. Miss Slovakia 2012 winner will represent Slovakia in Miss World 2012 pageant, in Ordos, China while the first runner-up will be representing Slovakia, in Chengdu, China for Miss International 2012.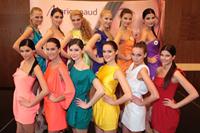 This pageant will be broadcasted by TV JOJ. There will be a big fashion show with the finalists as stars of the night. Another important feature is that all the money raised from the SMS voting will be donated to the families with children suffering from cancer.


Miss Slovakia 2012 finalists /contestants

The 12 finalists of the Miss Slovakia 2012 competition are ready for the final night that will be taking place in Bratislava.




Kristina Krajcirova
Age: 20
Height: 178
Sign: Sagittarius
Hobbies: Cooking, Driving


Julia Kollarova
Age: 21
Height: 178
Occupation: Pan-European College in Bratislava, Faculty of law
Sign: Gemini


Martina Cabanova
Age: 19
Height: 178
Sign: Fishes
Occupation: Student of Business Academy in Banska Bystrica


Jana Nagyova
Age: 19
Height: 178
Sign: Capricorn
Occupation: Student at private secondary school in Zvolen


Miriam Mattova
Age: 19
Height: 171
Sign: Taurus
Occupation: Student of city university of Seattle


Maria Frtalova
Age: 24
Height: 171
Signs: Virgo
Occupation: Civil engineering student in Slovak technical university in Bratislava


Denisa Krajcovicova
Age: 24
Height: 172
Signs: Capricorn
Favorite destination: Sunny Spanish city of Malaga and Barcelona


Silvia Kimlickova
Age: 20
Height: 175
Signs: Sagittarius


Romona Bobokova
Age: 24
Height: 175
Signs: Virgo
Hobbies: Fashion, travel, sports


Dominika Tothova
Age: 18
Height: 178
Signs: Aries


Lenka Petrovicova
Age: 18
Height: 177
Signs: Taurus
Hobbies: Skating and fitness


Valentina Semanova
Age: 19
Height: 175
Location: Michigan




Miss Slovakia 2011 Michaela Nurcikova will crown Miss Slovakia 2012 winner. So wait for few more days to see who will be Miss Slovensko 2012?
Also read Miss Dominican Republic 2012 Pageant.



Image courtesy: beautypageantnews.com