Fashion trends in necklaces

You might be a person interested to wear necklaces? If yes, read this article to know the latest fashions in necklaces, celebrity necklaces, price, materials used in designing, categories of necklaces, size and types, gold markings, EP or GP marks and many more!


Necklace, a jewelry worn around the neck, is very popular among people of all cultures, genders as well as ages. As we all know this necklaces, an example of fashion jewelries is formed from a metal jewelry chain and consists of pendant, locket, gemstones, beads, corals, art glass etc. The attractive features of these necklaces make it unavoidable jewelry used by women. Celebrities are often associated with their jewelries worn. In the beginning of 2012, there was striking news related with noted Bollywood actress Kareena Kapoor and her jewelry.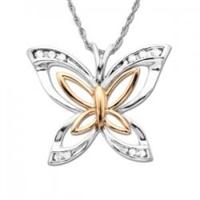 According to the reports, Kareena ordered40 lakhs necklace for her wedding to Saif Ali Khan. This exclusive jewelry piece worn at royal weddings will be a full dress set, which runs from the neck to the waist. Are you amazed about the huge price of this necklace? If yes, remember that this jewelry piece is not a simple one. This necklace is made with 400 gm gold and will have expensive gems studded on it.

Some examples of materials used for making this necklaces includes gold, silver, platinum, titanium, copper, brass, pewter, stainless steel, diamonds, rubies, sapphires, zircon, tiger eye, agate, feathers, leather, wood, flowers, seed, bark, corals, shells, pearls, ceramics, glass, plastics, candy etc. Based on the type of materials used for construction, necklaces are divided into categories like precious metals, precious gems, stones & crystals, animal origin, plant origin, ocean origin and manufactured materials.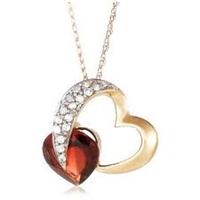 But before using a necklace, you have to consider several factors like where you like to wear the necklace and the clothing to be worn with. The size of a wearer should be taken into account before wearing a necklace. So remember that shorter the necklace, the more important the size. The huge price of this necklace depends on the type of materials and time needed for designing it. There are different types of necklaces based on their length and adornment.


Types of necklaces
Opera necklace: Size 28"- 34": Can be worn in many ways for dramatic look. This is ideal for high collars and can also be doubled or tripled and can be worn as a multistate choker


Matinee necklace: Size 20"-24": Can be worn down to the breast bone. This is most suitable for semi-formal occasions or business attire


Cross necklace: Can be of any length


Choker: Size 14"-16": Can be worn tight around the neck and is suitable for any style dresses


Princess necklace: Size 17"-19": Can be worn just below the collar bone and is great with pendants. From the size itself, I think you all understand the fact that this is longer than a choker but shorter than a matinee


Lariat necklace: Size Over 45"


Sautoir or rope necklace: Size 35"-45": Worn in various ways including as a multi-strand bracelet


Pearl necklace: This is a popular necklace used by women in different parts of the world. Two specific named kinds of pearl necklaces include a bib necklace and a uniform pearl necklace respectively. In uniform pearl necklace, pearls will be of the same size while in bib necklace there will be multiple strands of stepped pearls


Diamond necklace: The most gifted jewelry items in western countries and is available in different forms like the diamond V necklace, the diamond Y necklace, the diamond eternity necklace and the diamonds by the yard necklace


Prayer bead necklace: This is a type of necklace in which prayer beads are worn to focus mainly on meditation and prayer


Tooth pendant necklace: When hearing this name tooth pendant necklace, I think you know that there is something special in it. If you think that way, then you are correct. In some necklaces the pendant portion is a tooth. Such necklaces are known by the name Tooth pendant necklaces
Ways to determine your necklace is fake gold or real

By reading this article up to this point, I hope you all got information regarding the types and popularity of a necklace.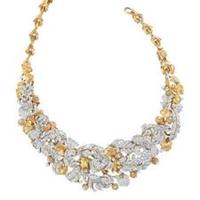 But people may have some doubts regarding how to purchase a real gold necklace? Try to buy jewelry from a reputable dealer whom you can trust. If you get a magnifying glass or jeweler's loupe, it is easy to have a close look of each necklace. As we all know gold necklaces are marked according to their purity, you must read the markings on this gold jewelry to determine whether it is gold or fake. The percentage of gold content in jewelry is determined by the following marks:

24K: Pure Gold
10K: 42% Gold
18K: 75% Gold
14K: 59% Gold

Another point is that if you look on your gold necklace near the clasp, you will be able to see a small metal tag, which will be oval or rectangle and with the same gold color as the necklace chain and clasp. The both sides of this tag will be marked with gold's karat marking as indicated above. If you see marks EP or GP on the tag, which means the necklace is plated. Also note that if the necklace has tarnished, that means if the gold appears dull and silver in color, then it is fake. These simple tips should be remembered while purchasing the latest fashioned necklaces.



Image courtesy: squidoo.com, ilikenecklaces.com, necklase.com, thepearloutlet,com