Bridal Jewellery – Different sets and How to Choose

Jewellery is one of the main ingredients for a wedding. The bride and family are always confused on choosing proper ornaments for her big day. The following article will help you to get an idea on Bridal Jewellery selection.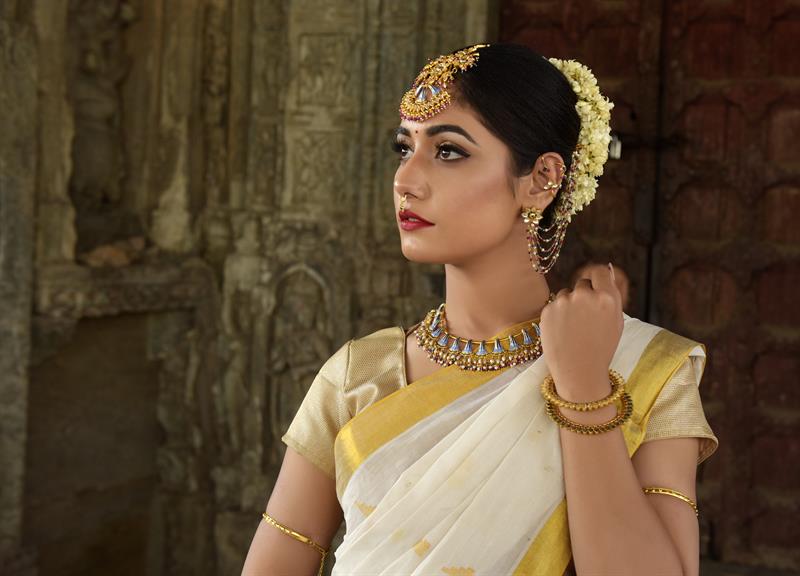 Jewellery makes up for a major portion of wedding investment for a family. When a big amount of
money is spent on jewellery that would end most likely up as an heirloom, it is usual that the bride
and the family spend a large amount of time to choose the jewellery sets that suit the moods of the
different functions that are held before and after the wedding day. We have attempted to provide
an essential guide that will help you choose the jewellery sets with ease.


Selection of Wedding Jewellery


Selecting wedding jewellery is a daunting task as you have to pick from many designs and different
price ranges. The bride wears jewellery that catches the eyes of the onlookers. You can probably pick
from these sets.




Kundan Gold Jewellery

Kundan literally translates to refined gold. This type of jewellery has flowed down from the Mughal
era to the users of today. This type of jewellery is popular in parts of Delhi and Rajasthan. The
jewellery flaunts elaborate designs in stones which are held together in gold. This jewellery is chunky
and decorated with precious stones such as rubies emeralds and sapphires.


Polki Gold Jewellery

Polki jewellery is very much similar to Kundan. However, it is more expensive than Kundan because
Polki is all about setting uncut diamonds using traditional jewellery patterns. Polki jewellery is about
courting the unconventional. The jewellery comes in vivid colour combinations. This jewellery emits
the raw shine and radiance of the uncut diamonds and is brilliant enough to be worn on the wedding
day. The distinguishing feature of Polki jewellery is that it features only uncut diamonds.


Meenakari Gold Jewellery

Meenakari jewellery is unique in that metal surfaces are enamelled with differently flowing natural
motifs such as flowers, peacocks, leaves, etc. This is a typical Rajasthani craftwork. This style is
originally from Persia and as invented by the Iranians. Later it was brought to India. This jewellery
sports many colours in vibrant hues. This type of jewellery can be used on the day of the Mehendi
ceremony. The best Meenakari jewellery is found in Kashmir, Jaipur and Lucknow. In Lucknow,
Meenakari jewellers are seen to prefer using blue and green colours on silver jewellery.


Jadau Gold Jewellery

The literal meaning of jadau is 'engraved'. Though this type of jewellery had its origins in the Indi
Gangetic plains, this style has been perfected in the Rajasthani city of Bikaner. This jewellery was
extensively used in the Mughal era.
The Jadau jewellery making process is very intricate and requires talented craftsmen. The basic
design of the jewellery piece is first moulded in gold and the stones are engraved into desired
shapes. These jewellery pieces are then placed into the engravings and then are sealed with pure
gold foil into the base also made of gold. The stones are afterwards covered with enamel. The best
Jadau jewellery can be obtained from Jaipur or Ahmedabad. Jadau jewellery is a blend of the three
types: Kundan, Polki and Jadau itself. The prices are high and cost a few lakhs for the jewellery
pieces.


Traditional Gold Jewellery

Gold Jewellery is most popular in the southern states of Kerala and Tamil Nadu. The Keralites love
for gold is a fact known all over the world. Gold is an integral part of every celebration in Kerala and
the wedding is no exception. Keralite brides wear exquisite old jewellery item including the
kaasumala, which consists of gold coins strung together as a necklace, usually containing the image
of Goddess Lakshmi. The karimani mala consists of black and gold beads strung together. The gold
kolusu is worn on the ankles and pathakam is a traditional gold pendant. Valas (bangles) of different
designs and jimikki (earrings) are also must-haves for a bride. All the designs are intricately carved
/moulded in gold.

If you are a resident of Saudi Arabia and are looking to buy gold jewellery in Saudi Arabia, then the
ideal place to visit Sona Gold and Diamonds Jewellery in Riyadh. These Saudi jewelers have seven
other outlets that you can buy from. For more information, please visit www.sonajewellers.net