Bangles: The traditional fashionable ornament

Wearing bangles with suitable dresses is nowadays a fashion for women and men. Varieties of bangles are available in the market. So read this article to know more about bangles regarding Punjabi bangles, gold bangles, jewelries and gold price, types of bangles, Laad Bazaar and many more!


Bangles are the traditional ornaments worn by women in countries like India, Bangladesh and Pakistan. In earlier days this was used by Hindus only but now every person irrespective of their caste and religion uses this ornament. But I will correct this sentence once again by telling you that bangles are nowadays used by men also.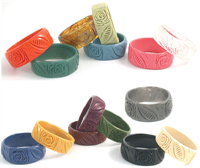 Don't get surprised when you read this sentence. Have you ever noticed men wearing single bangle on the arm or wrist called Kara or Kada. In Punjab located in India, women wear a kind of bangles named Chooda on her wedding day. I think you have noticed Punjabi women wearing a set of white and red bangles with stone work. The world's largest producer of bangles is Moradabad.

Nowadays bangles play an important part of Indian wedding ceremonies. Materials like gold, glass, ivory, shell, plastic and lac are used for making these bangles. Today this is an essential part of any wedding costume. Since the daily gold price is increasing, we know that buying gold bangles is a difficult task for parents. In the case of a Hindu bride, she usually wears glass bangles with her gold ones. In some marriages you can see red and green glass bangles. Here green symbolizes fertility while red that of life and joy. Bangles are available to the customers in a variety of colors and designs.


Fashionable bangles
Colorful Bangles
Gold Bangles
Silver Bangles
Wire Bangles
Glass Bangles
Coper Color Metal Bangle
Maroon Pota Studded Bangles
White Studded Bangles
Silver Color Metal Bangles
Maroon Stone Studded Bangles
Matti Bangles
Mirror Bangles
Plain Bangles
Stone Bangles
Off White Stone Studded Bangles
Golden Color Polished Metal Bangles
Pink American Diamond Studded Bangles
Multi-color Stone Studded Bangles
White American Diamond Studded Bangles
Brown and Golden Color Stone Studded Bangles
Golden Colored Bangles
Black Fashionable Bangles
Pink Stones Studded Bangles
Steel Color Bangles
Orange Color Studded Bangles
Golden Polka Bangles
Golden American Diamond Bangles
Purple Stone Studded Bangles
Baby Bangels
Rubies & Emerald Bangles
Mens Gold Bangles
White Kundan Studded Bangles
Violet American Diamond Studded Bangles
Turquoise Stone Studded Bangles
Kolkata Blue Bangles
Iron Bangles
Plastic Bangles
Traditional Bangles
Wood Bangles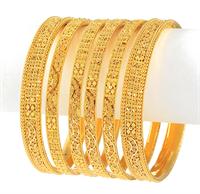 Even nowadays toddlers also wear bangles. Have you ever thought about the history of these bangles? In India, the early examples of bangles include a figurine of dancing girl-wearing bangles on her left arm from Mohenjo-Daro, decorated shell bangles from Mauryan Empire, gold bangles from the historic site of Taxila etc. What a surprising invention? These bangles circular in shape are made from materials that may be precious or non-precious. Don't misunderstand that only precious bangles are worn by people. Even the gold price is increasing daily, jewelry shops always have customers. Not only these gold bangles but the gold necklaces, earrings, rings etc. are always attractive to the people. These gold or silver bangles when worn in our hands always make a jingling sound. Several factors like embroidery, small hangings, paintings, color, paintings etc. contribute to the price of the bangles. In Hyderabad located in Andhra Pradesh state, India, you can see an old market named Laad Bazaar which is popular for bangles.



Image courtesy: sensationalcolor.com, asiajewelers.com